In July 2022, Elevate was selected as the staffing partner for one of the most renowned British supermarket brands – Waitrose & Partners. We were challenged with providing the store chain with multiple in-store staff to perform weekly tastings (food sampling) to a wide range of customers throughout the region.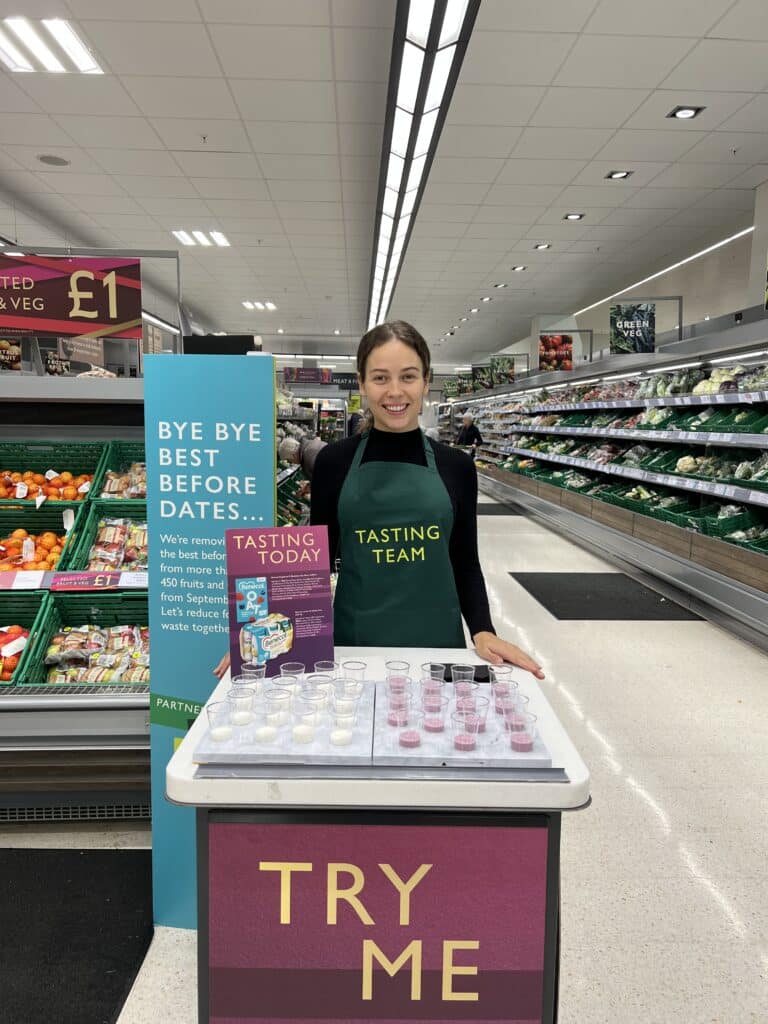 Initially, we started with a list of around 50 consistent stores from all over the UK and by following strict guidelines and providing a top-quality service – this has since grown to 70 stores across England, Wales and Scotland. To maintain a consistently high standard of work at each location, we decided to do things a little differently to strengthen our long-running relationship with Waitrose.
Elevate brand ambassadors who were working on Waitrose jobs receive bespoke training designed and implemented by the Elevate Staffing team every week. This includes specific training for the different brands being sampled, and our optional Elevating People training course which features modules on DE&I and Sustainability to promote inclusivity and best practices when it comes to waste management.
They also received resources to support them further in their knowledge, including specially designed brand infographics and interactive training videos. Staff are also quizzed weekly ahead of their shift to make sure they retain the product information. As these roles are remote with not many brand ambassadors at each site, to maintain a sense of community, our team also put together newsletters designed specifically for the Elevate Waitrose team to provide updates.
Along with event staff, our Impact team also worked hard to support Waitrose with data collection at each tasting, delivering innovative weekly reports with a round-up of how the brand performed. These reports include key stats such as the total number of engaged consumers and samples distributed, as well as the conversion rate (from engaging with the consumer to them trying the product).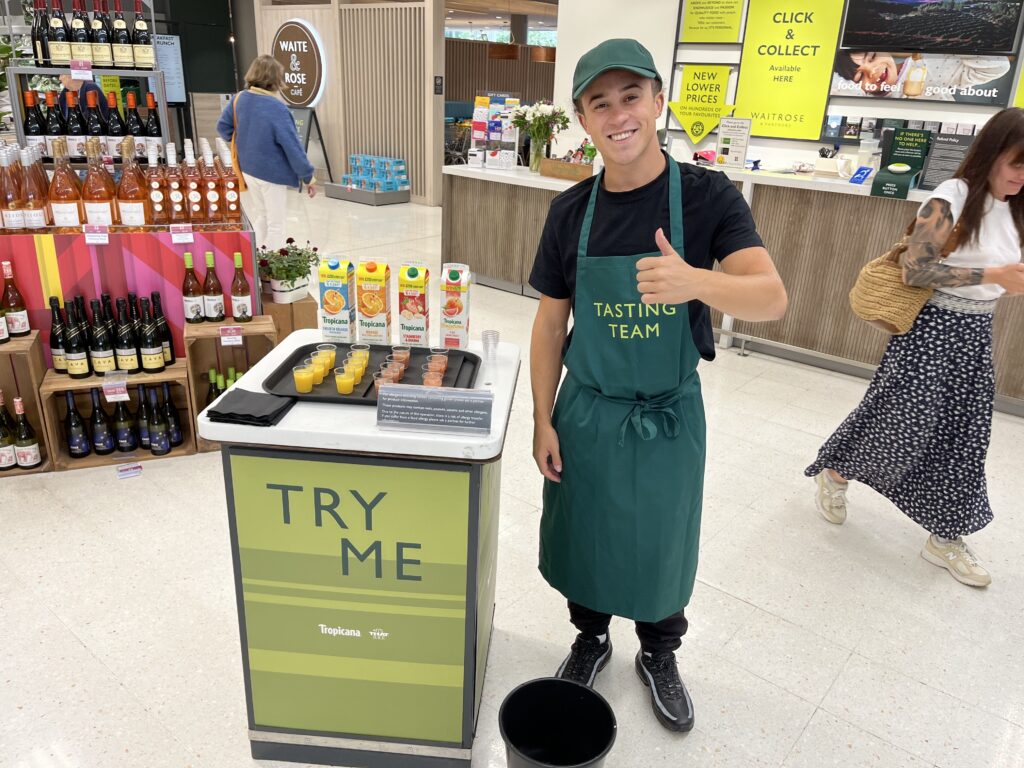 With Elevate Impact – they also have their own customised dashboard to track things further and pass back information to the fellow brands they're working with.
One of our Waitrose brand ambassadors – Emily – shared how she's found working on the Waitrose team, "We stay in touch by all sending in pictures of the day in the WhatsApp group chat and there's constant communication. The Elevate Waitrose management team make such an effort to ensure the day is welcoming and proactive, and they keep us all together on the same train."
We also had to consider food safety certifications and ensure that staff had strong relationships with their stores. As a result of all of this, Elevate has managed to create a community of knowledgeable, trained Waitrose brand ambassadors with great success.
Over the past year, there have been some amazing achievements to call out from the in-store tastings:
Over 1 million engagements between our staff and consumers
Over 900,000 samples distributed
66 brands sampled
Nickie who works at Waitrose as a Tastings and Events Senior Executive and heads up the partnership with our team, also shared how she's been finding the relationship between Waitrose and Elevate:
"We've enjoyed working with Elevate over the last year to deliver our Branded Tastings across branches and we have a great relationship with the team. The Brand Ambassadors are well turned out, engaging with the customers and working well with our shop. Impact is also a great tool for storing photos and other information taken from the tastings – we'll continue to work with the team to personalise and make this work harder for our requirements. We're looking forward to continuing our relationship with Elevate over the next year and really growing our tasting offering with their support."
This activation is still ongoing and will be running into 2024. We're looking forward to reaching more milestones for the brand. 
Want to create similar results for your brand? Speak to the team today.